For more than a week now, a man from Transcarpathia, Ukraine, who moved to Budapest with his family long before the war started, has been volunteering at the Western railway station of Budapest every day with the Hungarian Reformed Church Aid. He and his wife had planned to return home for their retirement - now they don't know what the future will bring. Their elderly parents and friends remained in the war-torn country. But they are turning worry into action.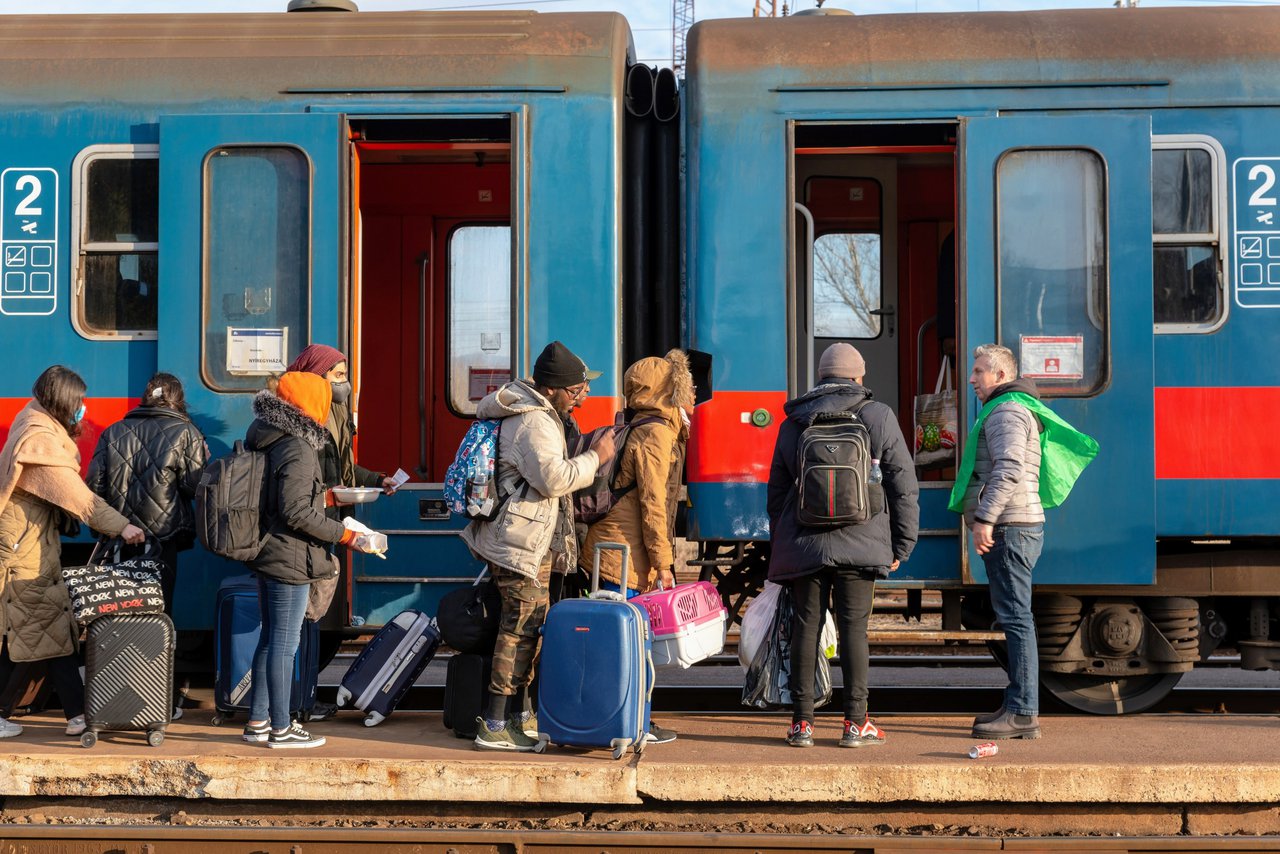 There are a lot of people at the railway station, many of them want to help. Every day a father goes to welcome families fleeing the war. He addresses the arrivals and asks them if they have anywhere to go. If necessary, he finds accommodation or takes the sick to hospital. "The train from Záhony at 5:30 in the evening brings 300-500 people, there are up to 900 on the train arriving before midnight and almost 1200 on the one scheduled for 2:00 AM in the morning. Most of them women and children. They arrive terribly exhausted, many of the fleeing from regions where their houses were hit by missiles or from tunnels where they were hiding and then put on trains leaving for Hungary".
Many of them continue their journey to Poland, Germany or Slovakia to join friends and relatives who live and work there. A good number speak also English, but most of them speak only Ukrainian. "As somebody who attended Ukrainian school myself, I can understand them. If they have the chance to travel on, I can help them with interpretation at the ticket office and explain them available options depending on their destination. I show them where they can pick up medicine, food parcels and fruit. Those who are only waiting a few hours for the connection, they can take a seat in a heated bus, have a rest and a snack before moving on. Some people need accommodation for a night or two, and others who need accommodation for several days or even longer period, are connected with host families."
The man from Transcarpathia has been moved and said that he had never experienced that people of good will can be so united. Christians and non-Christians join forces almost as one body: some keep track of the accommodation offered, others are drivers, others know families who offer accommodation - even those who can accommodate up to five to ten people. "Each day, HRCA volunteers and civilian helpers put together the information we have and work together. There is a real community and an amazing sense of organisation among us, even if we don't know each other. Whatever is needed, there will be somebody out there to offer it. People come to the station all the time, asking what they can do to help. They offer a ride, an accommodation, food etc. There are also several points where helpers sit equipped with laptops, linking up donations and needs, for example trying to find a place to stay for families who don't want to be separated."
In all this, he sees the biblical message being fulfilled. "I had a difficult time during summer when I felt alone. But then, one day the Bible spoke to me; when the Lord tells Elijah that he is not alone, and there are seven thousand other people besides him who fear the Lord. I can see with my own eyes the seven thousand people who have been moved in this difficult situation. They are out there, they are not wearing crosses, they are not going to church, yet they are doing a respectable thing that pleases the Lord. They make an impact on another person's destiny giving them direction when they need it most. People of good will share their homes, offer their own bed so that refugees can rest before they move on. In the meantime, they help someone else. Sometimes a family has to be quarantined and some people take them in. Jesus says that those who do good to the least of His brothers and sisters, do good to Him. This is where I realized what true worship is. It's a wonderful moment of joining forces for the good."
Having done his bit, he goes home, gets some rest and starts again the next day. He feels pain in the knees, but says that if he can help just one person, it was worth it. He cries when he talks about it. "When you put a mother and her children on a train, so that she can move on to reach her final destination, and she says she is grateful that there are still people out there like us, you can't manage it it without tears. The first day I cried all the time. I rebelled against what was happening, but by the evening the Lord gave me peace. As I prayed, I understood that their burdens have been carried by Jesus Christ Himself. God said to me: you just listen to them. It is enough if you can pray with them or say a kind word to them. That is all you can do, but this is real help, and that's enough."
He is now grateful to be able to contribute, if only a little, to protect human lives. "I have realised that nothing matters but human life and faith. This is confirmed by the refugees. Just yesterday I spoke to a family in Kyiv. The mother had slept on a blanket on the concrete of the metro station for four days with her baby on her chest so that the baby would not catch cold. The air raid siren kept sounding all the time. When they came up from the subway, there was nothing left of their house. Yet, even when they saw the ruins, they understood that they could be thankful for their lives."
The Hungarian man from Transcarpathia is convinced that the bloody conflict could happen because people do not live according to God's commandments. "God gives us blessing and cursing, the path of life and death - we can choose between the two. If we choose life, we can live on the earth God has given us, in peace. Perhaps this war will make people realise that there is no other way to live but by following God's law."
Ukrainians can experience God's love through the Hungarian people. This is a special situation for witnessing because they can also express that they have no anger towards each other. The life of the Hungarians in Transcarpathia, Western Ukraine, has been full of struggles and hardships, many of them facing difficult economic situation, especially the majority of the Hungarian Roma who live in deep poverty. That is why many are now fleeing the war in Ukraine: some fear that it could reach their homes, but basically they realise that they cannot expect help from the state or from their communities in a war-torn country. They expect food shortages, unemployment and a long-term breakdown of the social service system.
Although he was one of the first to be drafted in Ukraine, he would not take up arms and join the army, even if he would still live in Transcarpathia, he says. As a Hungarian who has lived there for decades and hoped in vain for a better life, he does not feel that he should pay for the Ukrainian state with his life, and as a Christian he does not want to make an attempt on anyone's life. "The people of Transcarpathia have always put their trust in God, and now it is no different. Since the war broke out, there are even more people attending church than before. We have seen this from the worship broadcasted from the congregation of Beregszász/Berehove, but it is also the case in the villages. People feel that they have no one to cling to, but God. 2022 was declared earlier the Year of Thanksgiving in the Transcarpathian Reformed Church. They haven't changed the decision. So this Sunday was also about giving thanks, even in the midst of war."
Originally published on 11 March at www.parokia.hu. Translated by Anna Derencsényi.